I don't think I'm going to be finishing the A-Z Book Challenge like I was hoping. New Years is less than three days away and I still have the letters R, Z, X, I, Q, U, and Y. I don't see any point in speed reading though seven books. That wouldn't be any fun. I don't think think these sort of challenges are supposed to be stressful. I probably could have done this one fairly easily except that I didn't plan out for different letters and there were a good five months this year I stopped reading romance.
But, despite not actually completing this challenge, I really enjoyed it, so I've decided to do a few next year!
The first one I want to do is the Off the Shelf Challenge hosted by
BA Reading Challenges
: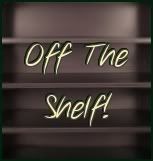 The challenge is to read some of those books you already own. Ya know, the one's you've been meaning to get around to for ages but are currently buried under all the new books you bought... I chose the "tempted" challenge level, so I have to read 5 of those books in the next year. I figure I'll do more, but I wanted to start off simple.
The next challenge is 2011 Contemporary Romance Reading Challenge hosted by
Romance Book Maven
:
The challenge is to read 10 contemporary romances (no paranormal, fantasy, or time travel elements) in the next year. I decided to do this one because I like a lot of contemporaries, and I have tons on my TBR shelf so this seemed like a good way to knock some of those out.
The last challenge I decided to do is the
2011 Paranormal/Fantasy Romance Reading Challenge
hosted by
Nitty Gitty- Romance and Erotica Reviews
:
To be honest I don't think I'll be able to finish this challenge. The goal is to read 12 paranormal romances over the next year. While that doesn't sound like a lot for some people, that's a heck of a lot for me. I don't read a lot of paranormal- which is why I decided to try the challenge. Even if I don't complete it, I'll still have expanded my reading horizon. At the moment I feel like the books I pick are heavily tilted toward historical romance, and I want to break out of that a little and explore.
Anyone else participating in fun challenges? Any reading goals for the New Year?